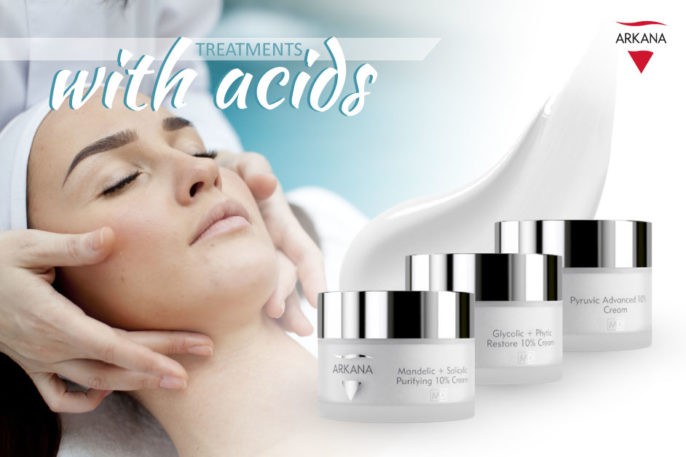 Acids have been known in skin care since ancient times. Bread crumb masks soaked with milk, which fostered skin whitening, were used in Greece. A bath in donkey or cow milk was another procedure using milk. However, women were not aware of milk ingredients and elements affecting their skin in such a beneficial way, i.e. whitening, smoothing and cleansing the skin. That was discovered far later. Today, you have a considerably wider choice of professional acid procedures with a wide range of effects. Do you know which acid procedure is best for your skin?
Acid procedures in winter time
Certain acids have photosensitizing properties, which means the procedure renders the skin sensitized to sunrays. Therefore, exposure to the sun may lead to discolouration. Due to this fact, intensive exfoliation therapies are not recommended during summer.
When the sun slightly weakens for a few months, though, it is worth spending this time on exfoliation procedures efficiently removing dead epidermis.
Acid procedures consist in exfoliating the dead epidermal layer. Acids loosen bonds between cells and that facilitates their removal. This way, pores are unclogged and the skin is cleansed. It is worth remembering that after such intensive cleansing, the skin is particularly susceptible to the absorption of nutrients and active ingredients from other cosmetic products. That fosters application of nourishing masks and moisturizing treatments.
Although the sun is less intensive, it still caresses your skin. Thus, creams with sun filters ought to be used especially when you are planning long-term exposure to the sun, e.g. during a winter skiing holiday.
Your complexion determines acid selection
While choosing the appropriate acid you should, most of all, trust a qualified cosmetologist and their knowledge and experience. A cosmetologist is the one who chooses the proper acid after analyzing your skin and becoming familiar with its needs.
GLYCOLIC ACID
A glycolic acid, which is naturally present in sugar cane, is recommended for discolouration. It has brightening and shimmering properties and moisturizes, smoothes and shallows wrinkles. Thanks to small molecules, it penetrates the skin and stimulates cells to produce collagen, elastin and proteins, whose deficit comes along with age.
Apply the glycolic acid cream as support for the professional treatment conducted in the beauty salon.
Active substances contained in the cream, i.e. glycolic and phytic acids and arginine, demonstrate exfoliating, stimulating and rejuvenating properties. The product is recommended for the night both during exfoliation and rejuvenation treatments and for preventing ageing. When skin tolerance increases, the cream may be applied twice a day. The best solution is to include it in your home care ritual at least 2 weeks before the first procedure conducted in the beauty salon and after the full series during the autumn-winter period.
PYRUVIC ACID
A procedure using a pyruvic acid from apples and fermented fruit is recommended for oily and contaminated skin. The acid offers sebostatic effects, hampers sebum hypersecretion and controls the working of sebaceous glands. It eliminates the effect of shiny skin and deprives bacteria of the growth food. Moreover, the pyruvic acid is recommended for mature skin. It stimulates fibroplasts to work restoring elasticity and firmness.
To support your beauty salon treatment, apply the pyruvic acid cream with dermoplastic and stimulating properties, owing to which the skin is tightened, its density increased and contamination prevented. It is particularly recommended in care for mature skin with lost firmness as well as for oily and contaminated skin.
MANDELIC AND SALICYLIC ACIDS
A mandelic acid, which may be applied all year round, is a particularly delicate acid. It works perfectly for oily skin with narrowed pores. It stimulates regeneration processes and levels the tone. It is also used to refresh every type of complexion. If you are looking for a remedy for acne skin on the other hand, you need an acid with antiseptic, anti-inflammatory and antifungal properties. That is all a definition of salicylic acid and its properties. It stimulates epidermal renewal, simultaneously reducing scars formed as a result of acne lesions.
Apply the mandelic acid cream as support for the professional treatment carried out in the beauty salon. The composition of active ingredients, i.e. mandelic, salicylic and shikimic acids, has exfoliating and normalizing properties, significantly reducing inflammation and eliminating the shiny skin issue. This product is initially recommended for night use before and after cleansing and normalizing treatments. When skin tolerance increases, the cream may be applied twice a day. What is advised is starting the treatment 2 weeks before the first procedure in the beauty salon and continuing after the completed beauty salon therapy to maintain effects.
Skin care should correspond to the cycle of changes in weather conditions. During winter more gentle sun exposure should be used and you ought to undergo an acid procedure which will cleanse your skin and prepare it for the onset of spring. It is a great time to remove elements your skin doesn't need anymore.
Here you will find the recommended Acid Therapy line cosmetic products.