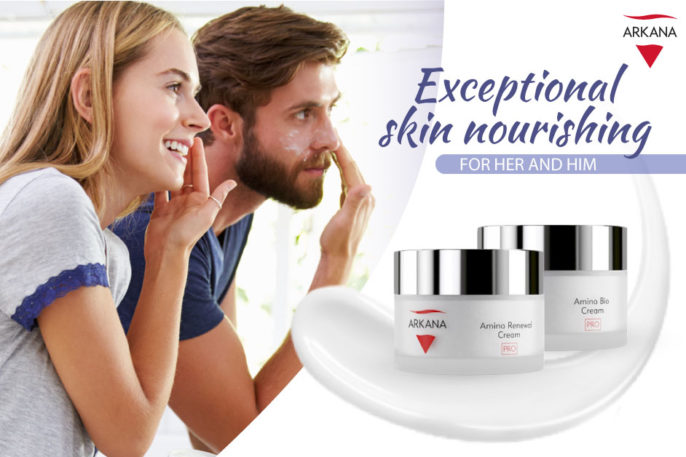 Sensitive, prone to irritation, susceptible to adverse influence of sun rays, wind and low temperatures, tired and deprived of protection… Are these the features of your skin?  Do you face excessive skin dehydration regardless of the season of the year and weather conditions? Such complexion is sensitive both to external factors and numerous ingredients of care cosmetics. Weakened hydro-lipid barrier fosters extensive loss of water and your skin cannot quench its thirst on its own. Help your skin!
Especially now your skin needs regeneration, in-depth moisturization and protection. Taking into consideration its exceptional needs and the winter weather, it is worth choosing the Amino Bio Therapy line designed to care for sensitive, dry and dehydrated skin.
Cosmetic products made specially for sensitive and thirsty skin
The skin plays a role of a physiological barrier, i.e. it separates the body from the external environment. Functioning of tissues is only possible with the appropriate degree of skin moisturization. Moreover, the skin binds as much as 20% of water found in the human body. As a result of the influence of numerous external factors and inappropriate care, this proper moisturization level is often disturbed.
The most frequent reasons for skin dryness and sensitivity include: contact with sensitizing or irritating toxic substances, including those found in certain cosmetic products, air-conditioning, central heating, exposure to the sun without using appropriate filters and a diet especially low in vitamin A.
Facial cosmetics from the Amino Bio Therapy line are characterized by the hypoallergenic formula and they are odourless and deprived of colourants. They may be safely applied on the heavily dehydrated, dry and sensitive skin and skin prone to allergic lesions. They might be everyday care products for her and for him, i.e. unisex cosmetics meeting the needs of male and female sensitive complexion.
Moisturizing formula
The Amino Bio Therapy cosmetic products are mainly based on 3 ingredients demonstrating strong moisturizing properties. The cosmetics were created using a complex of 12 amino acids influencing the skin at several levels. They are the ingredients of Natural Moisturizing Factors, they are responsible for maintaining the appropriate level of moisturization and they control skin osmotic pressure, managing water distribution in the skin. Furthermore, they contribute to effective regeneration and demonstrate antioxidative and anti-inflammatory properties.
What supports amino acids is high and low molecular weight cross-linked hyaluronic acid which binds several hundred water molecules. It deeply moisturizes and smoothes the skin, filling wrinkles. LycoMega, which is rich in lycopene and omega-3 and omega-6 fatty acids, is another ingredient of the cosmetic products. It repairs skin damage caused by UV radiation and slows down the skin ageing process. It replenishes deficient lipids and rebuilds the hydro-lipid barrier.
The Amino Bio Therapy includes odourless facial creams, including hypoallergenic facial Amino Bio Cream characterized by lightweight consistency and being safe even for the most sensitive skin. During the autumn-winter period Amino Renewal Cream, which intensively regenerates the skin, restoring its comfort and a radiant look, should be included in daily care. However, it is worth moving one step further. If your skin needs strong regeneration in the beauty salon, the procedure using the professional mask and serum belonging to the Amino Therapy line will serve as an excellent continuation of your domestic care. You may be sure that such comprehensive treatment will regenerate, moisturize and relieve the irritated skin. You can undergo the procedure in the selected Arkana Beauty Salon.
More information about products designed to care for dry and dehydrated skin and skin prone to irritation can be found on https://sklep.arkana.pl/pl/c/Amino-Bio-Therapy-PRO/398.