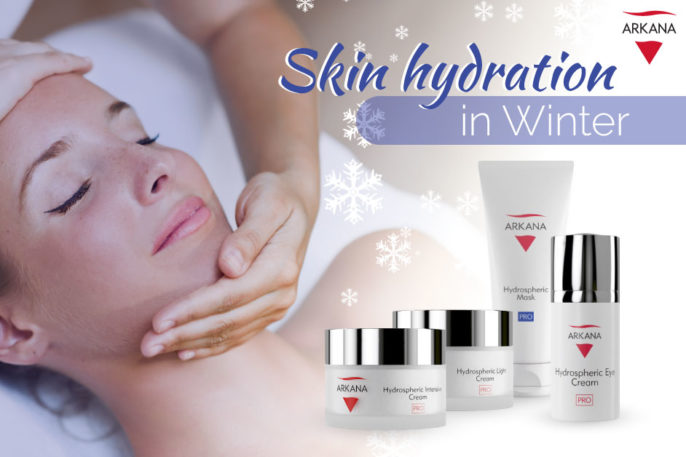 Your skin deals with the summer and spring weather quite well. However, when winter approaches and your nose is frostbitten, the skin gives up, stops fighting with the external factors that have adverse influence on its condition. In winter, most of us suffer from dry skin. Wind and frost weaken the lipid coat effectively, thus the skin lacks plenty of water, and the moisture level is too low for the skin to maintain good condition. Changes occur inside, but the effects are visible with the naked eye.
Reasons for the "winter dryness" of your skin
In winter, the skin loses plenty of water. That's a fact but do you know what the reasons are? These include changing weather conditions outside, low temperatures, cool wind, and frost that irritates sensitive skin. Central heating also has a negative influence on the skin because of its drying  effect. The consequence is dry skin in winter with a weakened hydrolipid coat. The skin loses its natural protection and is not able to defend itself. Initially, local dryness can be observed, especially under eyes where the skin is the most sensitive and the thinnest. Therefore, when you neglect daily care and you do not replenish the water level at the appropriate moment, then you suffer from cracked skin. Remember, in winter this process is very fast due to unfavourable weather conditions.
Symptoms of dry skin
How to recognize that your skin needs help, supplementation of water, relief and increased protection? Dry skin looks like fish scale. It is accompanied by itching and burning, it is thinner and it is more prone to irritations and redness. The skin is rough, even unpleasant, lacks firmness and elasticity, and the epidermis exfoliates. The change of its colour into light pink or grey is also observed.
What is more, dry skin ages faster. If care is improper, unattractive furrows can appear together with  wrinkles that can come into sight at the age of 25-30. In winter, cracking is a common feature of extremely dry skin. Painful small wounds can appear and cannot be properly healed because of frost and changing temperatures.
Moisturizing – the fundament of winter skin care
The appropriate level of skin moisture not only prevents its dryness but it also increases the efficiency of care therapies and activity of active ingredients included in other cosmetics.
The skin can be moisturized at home by selecting proper care cosmetics or at professional beauty salons. Arkana additionally offers oxygenating and moisturizing treatments based on Hydrospheric Therapy line during which preparations stimulating water channels are applied into the skin. They are intended for those with either dry or normal skin. In winter it will be the best rescue for those whose skin is temporarily dry and for those who notice visible symptoms resulting from staying in air-conditioned and heated rooms.
What does the oxygenating and moisturizing treatment look like?
The treatment starts with the application of gentle enzymatic peeling – Enzymatic Peeling – to get rid of keratinized epidermis. You can also use this preparation at home. It is available in small and big packs. The rich composition of the cosmetic includes a biocomplex of papaya, pineapple and mango, which is rich in natural enzymes.
Another stage of the treatment is the application of a special professional mask that is characterized by unique activity of oxygen peeling and oxygen mask. Facial massage performed during the application relaxes the skin, removes the effects of fatigue and brightens the skin.
Then, following the application of professional skin cosmetics, the active substances such as Hydra Synol-doi complex are applied into the skin. This ingredient activates water channels and improves transport of water into all skin layers. Instant hydration is obtained thanks to Glycohyal LW that is contained in the composition of preparations included in Hydrospheric Therapy line. If you want to combine intense moisture with regeneration, you can opt for microinjection of the skin during treatment. Nevertheless, the final decision is made by a qualified cosmetologist. The treatment ends up with a relaxing massage and application of a deeply moisturizing mask.
Remember that the effects of the treatment should be regularly taken care of. Thus, use products from Hydrospheric Light Cream line for day, Hydrospheric Intensive Cream for night, Hydrospheric Eye Cream and Hydrospheric Mask. This complete care won't certainly allow the winter to have a negative impact on the appearance and proper moisture of your skin.
More products of deep and lasting moisturizing properties can be found at:
https://sklep.arkana.pl/pl/c/Hydrospheric-Therapy-PRO/403
Check cosmetics recommended by Arkana:
Intensively moisturizing cream
Moisturizing tonic
You can buy them at www.sklep.arkana.pl