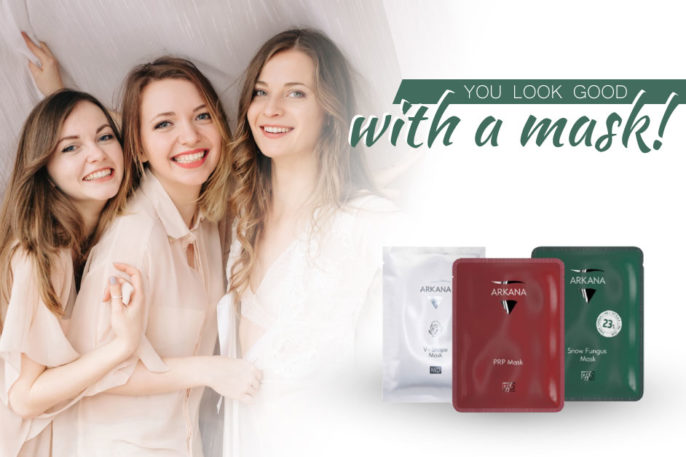 Have you tested sheet masks yet? It is an absolute hit in cosmetology and a convenient alternative to traditional masks. They are made of special fabric soaked with active care ingredients to act like a "compress". Thanks to this formula, they moisturize, nourish and regenerate your skin. Their phenomenon consists in the comfortable application combined with high performance. You may use them in various ways depending on your skin's current needs i.e. deep nourishment, moisturization, irritation soothing or smoothness. Discover our 3 types!
New mask form
Until quite recently masks were available in the form of cream or gel only. What was highly appreciated were a softening mask, i.e. a mask fighting comedones, deeply cleansing and rebuilding the hydro-lipid coat, a collagen mask combating the first signs of ageing and a castor oil mask soothing irritation and inflammation.
A sheet mask is a trend which first appeared in Asia. A growing interest in impeccably smooth complexion of Asian women and their care methods inspired European biotechnologists who, following this track, started to work on sheet masks adjusted to the needs and expectations of European women. Why?
Because sheet masks are easy and convenient to use and ready immediately upon opening. You can forget about blending them with water or about the necessity to lie down to keep the cosmetic product from flowing down your face.
Their shape is adjusted to the face so, having one on, you can read a book or watch television easily. Moreover, the sheet face mask is packed in a separate sachet, owing to which it is safe to use even in case of skin prone to irritation and, additionally, the tight closure helps preserve all of the active ingredients. This is a cosmetic product for anyone who appreciates convenience and high performance. You will find 3 types of sheet masks in Arkana's offer and you will easily choose the one designed for your complexion's needs.
Total rejuvenation of mature skin
The sheet mask with PRP effect may successfully be part of the rejuvenation therapy applied as an alternative to platelet rich plasma procedures. It was created on the basis of such ingredients as the GHK-Cu peptide, hyaluronic acid and diamond dust. The W3 peptide remodels and regenerates the skin and stimulates its rejuvenation process. GHK-CU reactivates skin stem cells and chia oil offers antioxidant and moisturizing properties. The sheet face mask is designed for skin requiring immediate regeneration, showing the signs of ageing and characterized by a clear loss of firmness.
Emphasize the face oval
The skin loses elasticity and visible wrinkles appear with age. Moreover, the skin demonstrates less firmness, which adversely influences the face oval. The sheet mask modelling and improving the face oval is recommended for this type of problems. It has been enriched with valuable rejuvenating and smoothing ingredients, e.g. extracts from rice, golden root and pomegranate, as well as hyaluronic acid. It has been designed to stimulate the bottom parts of the face, which allows restoration of its appropriate shape. As a result, the skin is taut and smooth.
Dry skin BIO dressing
The natural bio-mask, whose three-dimensional structure is formed by the unique edible Tremella fuciformis fungus (snow fungus). It has calming and moisturizing properties. It is designed for irritated and dry skin in need of reconstructing the hydro-lipid coat and an alleviating dressing. Apart from snow fungus, it contains hyaluronic acid, vitamins C and E and PAL-GHK peptide, owing to which it provides additional nourishment and prevents premature ageing of complexion. It acts in two phases, i.e. repairs the structure of the skin and lastingly moisturizes it.
The sheet mask serves as a perfect treatment both for your body and your soul. The relaxing procedure in the privacy of your home is an excellent weekly "routine". Make sure you can enjoy such a moment four the best of your health and beauty.
You will find the recommended sheet masks here.