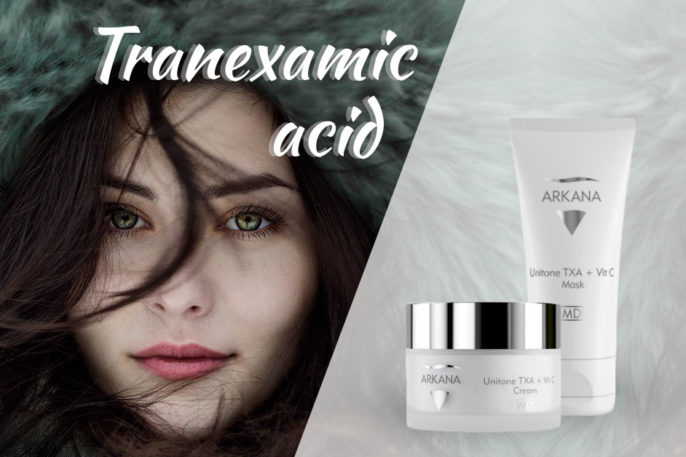 Discolouration visible on the face, neck and cleavage skin combined with erythema or irregularly located darker brown spots appear to be one of the most frequent problems of contemporary women. What are the most effective ways of brightening such discolouration?
Small spots, large problems
People who most often suffer from discolouration have pale complexion and sunbathe frequently. Most discolouration is caused by melanin overproduction, i.e. the disturbed melanogenesis process. Cells produce more melanin, e.g. during exposure to the sun, that is when we enjoy a beach holiday. The skin darkens point-wise and what often happens is that unaesthetic discolouration remains in the face, neck and cleavage areas.
Discolouration is a visible sign of the lapse of time. Its occurrence increases together with the skin ageing process.
Discolouration types
One can distinguish post-inflammatory and hormone-based discolouration, the latter of which appears during pregnancy, in case of hyperthyroidism or the application of oral contraceptives. When it comes to freckles, i.e. dark brown or yellow spots, most frequently found on the nose and cheeks, they fade during winter and intensify during autumn and summer as a result of being affected by sun rays.
In case of vascular disorders, characteristic of shallowly vascularized skin with fragile and dilated vessels, sensitive complexion and acne rosacea, disturbed skin tone occurs.
It is vascular discolouration that gave dermatologists and biotechnologists sleepless nights for a long time. However, a remedy has been found –  a tranexamic acid.
A "cure" for discolouration
This tranexamic acid was initially known as a substance demonstrating antihemorrhagic properties only. Inspired by its efficiency, biotechnologists decided to have a closer look at it and, subsequently, use it in cosmetology.
The tranexamic acid is currently used in dermatology as a "cure" for acne rosacea and discolouration. Its antihemorrhagic properties contribute to the effective treatment of itching, urticaria and skin inflammation. The things that make it distinct include simultaneous removal of discolouration visible on the skin and prevention of the formation of new discolouration, i.e. the tranexamic acid blocks accumulation of melanin. It is applied in case of disturbed skin tone, i.e. vascular discolouration. It reduces reddening and soothes inflammation.
Comprehensive tranexamic acid therapy
Indications for the use of tranexamic acid cosmetic products mainly include:
sun-related, hormonal and post-inflammatory discolouration,
uneven skin tone,
disturbed skin tone,
premature skin ageing,
acid dermo-aesthetic treatments.
Arkana has created the Unitone TXA Therapy MD cosmetic line combining the tranexamic acid with vitamins C and B3. The trio with synergic effects brightens and levels the tone, prevents discolouration, soothes irritation and itching, accelerates skin regeneration, demonstrates anti-inflammatory properties and eliminates the results of photodamages.
There are 3 preparations in the line designed for everyday care: the tranexamic acid cream with vitamin C, actively levelling the skin tone and sealing vessels, the tone levelling mask maintaining the effects of professional brightening procedures and the 10% vitamin C elixir demonstrating antioxidant and rejuvenating properties.
The Unitone cosmetic procedure performed in the beauty salon offers a highly recommended support for everyday domestic care.
Cosmetologist will take care of the appropriate "dosage" of the highly concentrated tranexamic acid. 5-10 procedures performed every 14 days are normally recommended. The acid should not be used by pregnant women.
What methods for hiding discolouration have you used so far? Has it been full cover base? It only exacerbates the problem, whereas the tranexamic acid eliminates it. So reach out for a solution which will restore your skin's beautiful and even tone again!